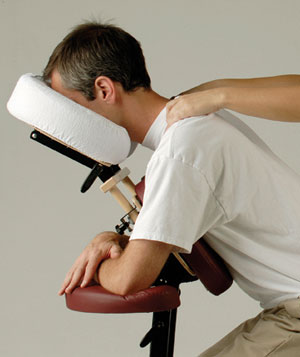 We offer chair massage for corporate offices, whether it be for wellness programs, employee appreciation, or special events like trade shows or marketing events.
Offering massage at the workplace is key to any company that wants to have healthy and happy employees. Having a chair massage program is an excellent part of reducing workplace stress as well. Give us a call, and see for yourself how a wellness program can benefit your office.
Massages are performed in a specialized ergonomic chair which we bring to the location. In addition to the usual health benefits of massage, another benefit of chair massage is that it is done over the clothing. With seated massage, you can avoid the discomfort and awkwardness that you may feel in disrobing for a traditional massage. Also, chair massage sessions are usually shorter than traditional massage, making it convenient enough to fit into your busy schedule.
Some of the benefits:
Improves alertness and the ability to focus.
Increases morale at the workplace.
Reduces the adverse effects of sitting for long periods of time.
Relief of problem conditions such as tension headaches and sore muscles.
Boosts immunity functions.
Leaves employees revitalized and ready to work.
Reduces the physical and mental effects of stress.
Relives physical problems associated with repetitive tasks.
Improves alertness and the ability to focus
Increases loyalty.
It feels pretty awesome!
3 ways to pay —
Corporate Sponsorship — company pays 100% of the costs associated with the program.
Employee/Corporate sponsorship — company and the employee agree on a percentage that each will cover.
Employee sponsorship — employees cover 100% of the cost.
~Group Rates-(minimum 2 hours)
~Individual Rates-(minimum 10 minutes)